I stood in the kitchen with my eyes straining to stare out into the bright winter landscape. It looked like a blistery day with winds whipping through bare tree branches and dusting the lightly fallen snow across the lawn. I shuddered and wrapped both hands around my warm tea cup tightly.
The furnace kicked on and I put both feet over the vent. I let the hot air blow up my legs a la Marilyn Monroe style, only I was wearing tacky PJ's and the only lipstick I was wearing was last night's drool.
Yes, I always wake up looking that dead sexy.
Just then the phone began to ring and my insides churned.
It was the 5th call this morning and it was only 8 am.
Ring, ring, ring!
I took in large deep breaths and closed my eyes.
2011 didn't leave us without kicking and clawing its way out first.
There were a lot of family issues that arose and we were caught in the middle of a nasty battle between 2 friends going through a separation.
Our phone has been ringing off the hook and our home has been a revolving door; a refuge for others.
I'm glad that we could help be there for everyone. We'd do anything for the ones we love, but everything happened all at once.
It was like being stuck dead center in the eye of a hurricane.
I'd be lying if I said that my insides weren't wound up tighter than a rubber band on some days and that our holiday celebration was greatly overshadowed by chaos.
Tears.
Yelling.
Worrying.
Shawn kept assuring me that things would blow over in a few days.
"Babe, would you expect anything less on this last week of 2011?" he joked.
By New Year's Eve, the family feud was mostly resolved.
But on New Year's Day my dear friend unexpectedly lost her Uncle and another lost their Grandma.
I almost feel guilty for trying to move forward and celebrate letting a shit year go and ushering in a brand new start.
My heart breaks terribly for them.
Ring, ring, ring!
Ring, ring, ring!
I took in a cleansing breath and opened my eyes.
I checked the caller I.D and it was my parents.
I clenched my teeth and walked over to the phone. I extended my arm to answer it when I heard the bubbly laughter coming from the living room.
I turned towards the happy banter and could see my boys laying on the floor shooting themselves with dinky cars.
That's what boys do right?
I decided to walk away from the phone and all the chaos to join my tiny family.
And to breathe.
We spent the morning together in our brightly lit living room dodging dinky cars and giggling till our sides hurt.
We ignored phones.
There was no Twitter.
There was no checking our Facebook to get caught up in the drama of the day.
When Chunky got up to leave the room, Shawn said,
"Let's get out of here. We can go to the movies."
And without hesitation we got dressed and left.
Just us.
It's what we needed.
*I hope that this doesn't come off as being selfish. We would do anything for the ones we hold dear to our hearts. ANYTHING. But we needed to go.
**I am still asking that you keep my dear friends in your thoughts and prayers as they lay their loved ones to rest today.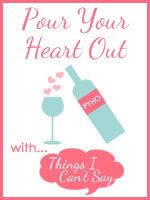 Project Alicia, Five Minutes For Mom, Dear Chrissy, Angry Julie Monday